Character Info

Full name and title(s)

Aphrael
Flute
Princess Danae

Race

Styric Goddess, apparently Elene as "Danae"

Appearances

"The Diamond Throne"
Aphrael is one of the Younger Gods of Styricum, and is known as the Child-Goddess, as her preferred form is that of a six-year old girl with grass-stained feet, known to the knights as Flute. She has three known incarnations: Danae, the daughter of Sparhawk and Queen Ehlana; her true form, as an adult woman; and the form of Flute, hardly different in appearance from Danae (she takes the form of a child as people trust children more). Aphrael's High Priestess is Sephrenia.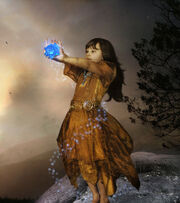 Aphrael was instrumental in the recovery of the Bhelliom, a magical blue sapphire crafted in the shape of a rose, and its delivery to Sparhawk in The Ruby Knight. She was also involved in stopping Klæl in the The Tamuli.