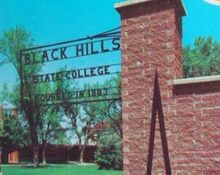 Black Hills State College is a four year teaching university located in Spearfish, South Dakota.
David Eddings worked at BHSC from 1966-1970, first as an Instructor, then as an Assistant Professor of Communications, and he also lead Creative Writing workshops with the community.
In The Rivan Codex Eddings claims he left teaching because administration voted themselves a pay raise, but his leaving the College coincides with his trial and jail time for child abuse.
It changed its name to Black Hills State University in 1989.