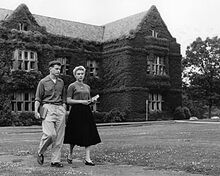 Reed College is a private liberal arts college in Portland, Oregon.
David Eddings graduated from Reed in 1954. At Reed he wrote his first unfinished novel, How Lonely Are the Dead which is still housed in the Reed Library Thesis Tower.
The David Eddings Papers are housed in the Special Collections at the Eric V. Hauser Memorial Library at Reed.
The collection encompasses Eddings' entire writing career, containing almost all the correspondence, holograph manuscripts, typescript versions, revisions, and page proofs for each of his 27 published volumes. Versions of more than a dozen unpublished works are also included along with short stories and plays that were rejected for publication. Eddings' education, army service, and teaching career are all documented. The Papers also contain photographs and personal correspondence, including his fan mail.