This page is written in the in-universe perspective of the "Garion" series' of novels.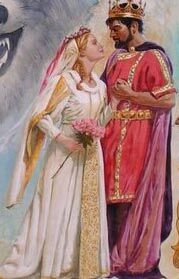 Riva Iron-Grip was the youngest son of Cherek Bear-Shoulders. He was the first King of Riva and Guardian of the Orb of Aldur.
Summary
[
]
Riva was born in the kingdom of Aloria to King Cherek. He went with his father, two brothers, and Belgarath the Sorcerer to retrieve the Orb of Aldur from the Angarak God, Torak in Cthol Mishrak. He then became the Guardian of the Orb and the King of the Island country of Riva after Aloria was split up. Shortly after he arrived at Riva, he forged the Sword of the Rivan King, with the help of Belgarath and the Alorn god, Belar. Sixteen years after he got the Orb and became King he married Belgarath's daughter, Beldaran who was also the twin sister of the Sorceress Polgara. He had a son named Daran. After his wife died from a disease, Riva disappeared from the public eye lost in overwhelming grief. He wasn't seen again until Daran was married and then when Daran had his son Cherek. Riva held his grandson, smiled at him and then he went back to his room and died in his sleep. He also later becomes the ultimate Grandfather of the Godslayer, King Belgarion.