Jurassic World: Dominion Dominates Fandom Wikis - The Loop
Play Sound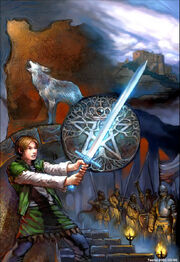 The Belgariad is a five-book fantasy epic written by David Eddings.
The series tell the story of the recovery of the Orb of Aldur and coming of age of Garion, an orphaned farmboy. Garion is accompanied by his aunt Polgara and her father Belgarath as they try and fulfill an ancient prophecy that will decide the fate of the universe. Along the way, various "instruments", or helpers, of the prophecy join their quest.

Writing the series
[
]
Having studied the world of Middle English fantasy at graduate school, Eddings believed he had a fair idea of how to go about creating a secondary universe. He began to create 'The Belgariad Preliminaries,' in 1978 and 79, which eventually became The Rivan Codex.  The series began to take shape, originally in the form of three novels, entitled 'Garion,' 'Ce'Nedra,' and 'Kal Torak.'   His agent, Lester del Rey, was convinced that only books under three hundred pages long, and sold for less than three dollars, were going to be publishable. Del Rey constructed the 'chess-piece' titles we know today and although Eddings envisaged the final book entitled 'In the Tomb of the One-Eyed God,' del Rey thought the title too long to fit on the front cover of the book. Ironically in the modern fantasy market, the series is often published as just two thick volumes.
On finishing his first draft of the Belgariad, David sent his proposal to Ballatine books, which got lost in the post. A second copy was sent, and David was finally on his way to completing his vision. Amongst other setbacks, David was forced to reduce the length of his prologues to under eight pages. David also had a disagreement with del Rey, who wanted to rename Aloria Alornia.  David's partner, Leigh, managed to talk him out of the idea, insisting that, 'Alornia sounds like a sort of cookie!' 
The Belgariad developed many new technical and philosophical ideas when it was published in 1983, which helped to contribute to its almost immediate success. David wanted to convince both his agent del Rey, and the world of fantasy, that women did exist 'below the neck.' As he pointed out in The Rivan Codex, 'There are no girl hobbits. There are matronly hobbit ladies, and female hobbit puppies, but no girls.' Most previous fantasies had followed suit with this idea.  
Works in the series
[
]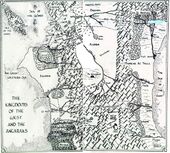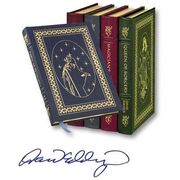 Volumes include:
International versions
[
]
In Spanish the series is known as Las Crónicas de Belgarath (The Chronicles of Belgarath)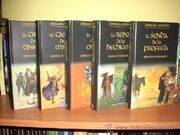 In German the Belgariad is called Das Auge Aldurs, The Eye of Aldur.

Compilation covers
[
]